Absorption System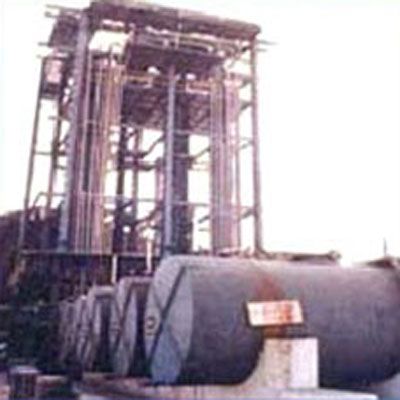 Rufouz Hitek Engineers offer a such Absorption System which is widely used in the manufacturing industries for making error free quality of products. They are utilized in the major industries for the recovery as well as for the removal of solute. In our system mixture of gas comes in the contact with the liquid for dissolving its components which can be one or even more and at the end desired result comes in the liquid itself. Our all team experts have deep knowledge about all the equilibrium characteristics of gases as well as liquid states and they are also completely aware of the factors like volatility, corrosive nature, viscosity and many more. We are also known for supplying largest sodium Methoxide plant which is nearby a height of 1.25 m diameter x 14 m packed height. It is a special type of absorption system that we have earlier designed for Gujrat Dyestuff industries. Similar type of technique we also used to develop an effective Vapor Absorption System. This system contains an absorber and an adiabatic gas tower attached to an exchangeable pump. Our made system works efficiently with power set up and do not use any type of harmful chemicals while processing. We have installed high tech plants to deliver better products. They usually consume low energy and less amount of space.
Main Features Of Absorption System:
Greater efficiency
Certified Tested products
Compact design
Less consumption of energy
Quality tested
Pollution free
Easy installation
Proper scrubbing of waste gases
Advantages Of Extraction System:
Timely delivery
Minimum field interruption
Schedule compression
Best recovery
Network Area:
Our manufactured products are made up of finest quality of raw materials due to which it ensures durability in the product nature. There are mainly three factors in our designed products which are the main keys of our success and these are quality designs, competitive price and timely delivery.
We Have Cover Following Markets:
USA: Florida, Montana, New Jersey, Texas, South Dakota, New Mexico, Alaska Nevada, etc.
Middle East: Syria, Jordan, Kuwait, Israel, Oman, Saudi Arabia, Yemen, Egypt, Cyprus etc.
Europe: Poland, Austria, Monaco, Finland, Sweden, Croatia, Andorra, Malta, Italy, Albania, etc.
Others: Maldives, Myanmar, Nepal, Bangladesh, Bhutan, Pakistan, China, etc.
Indian Areas: Assam, Himachal Pradesh, Gujarat, Delhi, Mumbai, Orissa, Karnataka, Madhya Pradesh, Rajasthan, Punjab, West Bengal, Haryana, Bihar, Andhra Pradesh, etc.